David Ajala Reflects on This Book's Star Trek: Discovery Season 4 Journey
Screen Rant spoke to Star Trek: Discovery's David Ajala about his memories of Season 4, Booker's relationship with Michael, and hints about Season 5.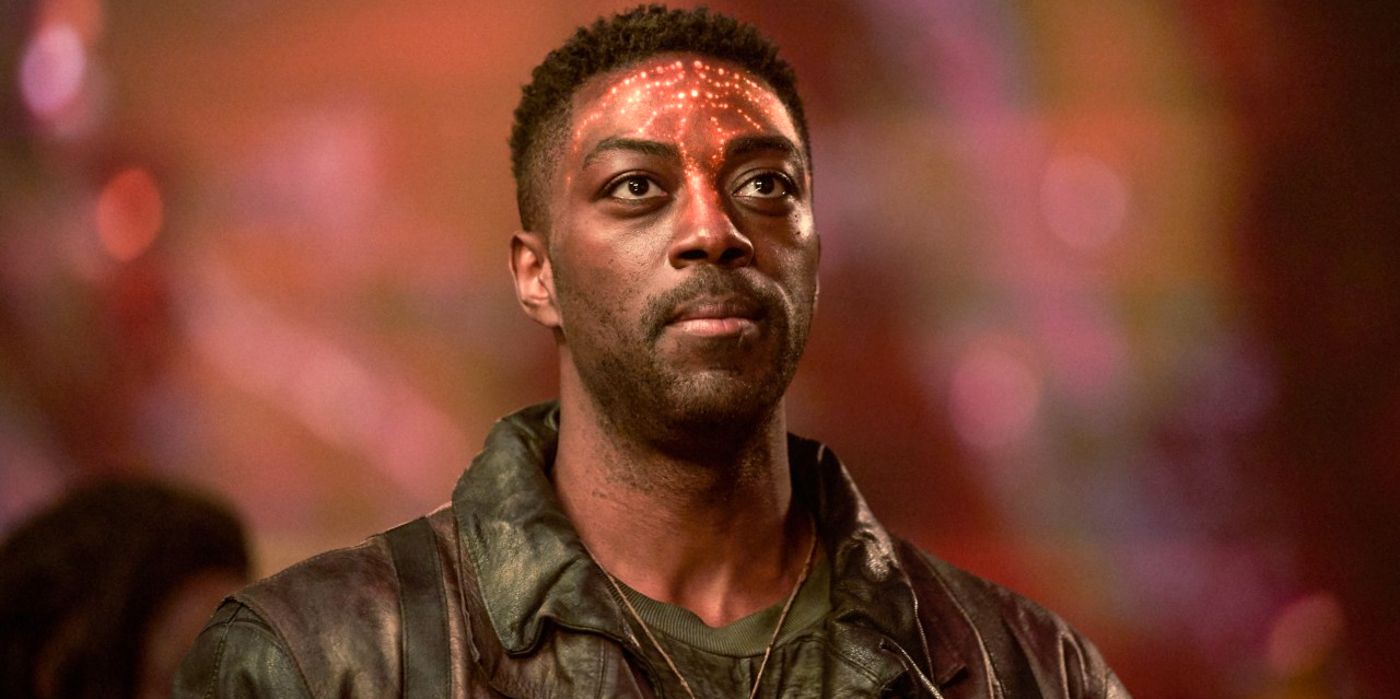 Cleveland Booker (David Adjara) embarks on a vengeance in Season 4 of Star Trek: Discovery. The Paramount+ Originals series is now available in a four-disc collection on CBS Home Entertainment. Star Trek: Discovery Season 4 is available to take home on DVD, Blu-ray, limited-edition Blu-ray steel box, and digital with over 90 minutes of special features, including exclusive cast and crew interviews, gags, deleted scenes, and Episode Review,
In Star Trek: Discovery Season 4, Captain Michael Burnham (Sonequa Martin-Green) leads the USS Discovery in the fight against a planet-killing threat called a dark matter anomaly. To understand the source behind DMA, Discovery travels where no one has gone before, to another galaxy. But Burnham also has to stop her lover Booker, whose home planet Kwejian has been destroyed by the DMA. Book teams up with mad scientist Dr. Ruon Tarka (Shawn Doyle) to destroy Species 10-C, the creator of DMA, putting the entire galaxy at risk.
Screen Rant had the pleasure of interviewing David Ajala about his favorite memories of filming Star Trek: Discovery Season 4, working with Sonequa Martin-Green, whether Book should be in Starfleet, and his thoughts on Star Trek. expect: Discover Season 5.
David Ajala Talks Star Trek: Discovery Season 4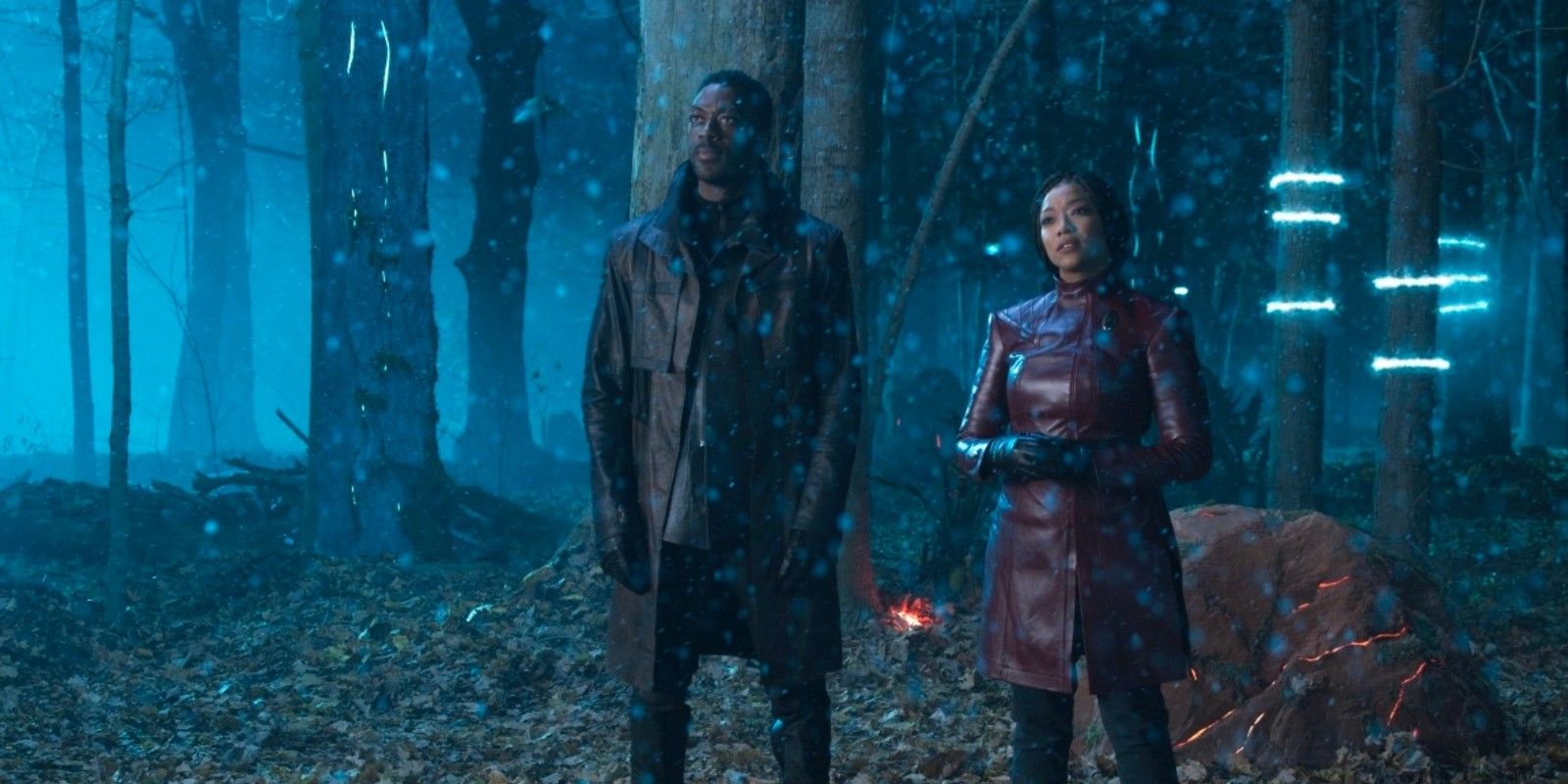 Screen Rant: What's your favorite memory from Season 4 of Star Trek: Discovery?
David Ajala: It was a challenging season to shoot because we were shooting in the middle of a pandemic. I've never seen a group of individuals come together so well [to] support each other. I think my favorite moments came from just seeing the kindness of people. People supporting each other, crew and cast, as we're going through this pandemic. My favorite moments are the moments of just the care that people showed each other, absolutely.
I've also heard from some of your other cast members that it was an incredible ordeal. And how it brought everyone together to film that season.
David Ajala: It really did. Yeah, we really did. Of course, there were moments of fun and what have you. But [the hard] moments for me were kind of somewhat neutralized a little bit by seeing the genuine acts of kindness and the support that everyone was giving each other to just pull through. It's left a really long-lasting, positive impression on me.
Booker's relationship with Michael is central to the play. What was it like working with Sonequa as a scene partner and romantic partner? Because I know she went through a horrible tragedy of losing her parents while filming season 4.
David Ajala: Honestly, John, it was just beyond challenging. I can't even imagine having to deal with that. It was beyond challenging. It was unfathomable. And then here she is, this wonderful, mighty, mighty woman pushing through as best she can. Everyone coming together to support her as best they can. And just making sure that we protect each other's hearts. And Sonequa has always been, and I believe will continue to be, an outstanding citizen on this planet. I know that might sound quite huge and slightly whimsical, but I really, really do mean that. When you're around her, you feel [like] just being a better version of yourself because she inspires it. She worked so very, very hard. And she's just a joy to be around. And we have so much fun as well, even though some of the scenes can be intense, and heavy, sometimes. There's always levity and there's always room for joys and cuddles and for showing love and sharing love. And yeah, she is a joy to work with.
Oh, that's great to hear. Now, another question: what was it like working with Grudge?
David Ajala: Oh, she is a demon! She is a demon. But so much fun. She brings a certain level of spontaneity on set. So unpredictable. It keeps everyone on their toes. And if you're gonna ask, I'll beat you to the punch: We will be seeing a lot of Grudge in season 5.
You also had a lot of great scenes with Shawn Doyle as Dr. Ruon Tarka in Season 4. There's a weird bromance between you that I really love. Tell me about working with him.
David Ajala: Yeah, it's funny because meeting Shawn, we were just very kind of professional greeting each other. And looking forward to telling this story and the story between these two characters. But what happened over just working with each other, and just connecting on and off set, we just started to form a shorthand way of speaking as you do with people who you admire and work with. And Shawn isn't just a very talented individual, he's a really cool guy to hang around with. I learned so much from him on and off set. The way he carries himself, his dedication to the work. Wonderful guy, really, really wonderful guy. And it was an absolute pleasure to be his scene partner.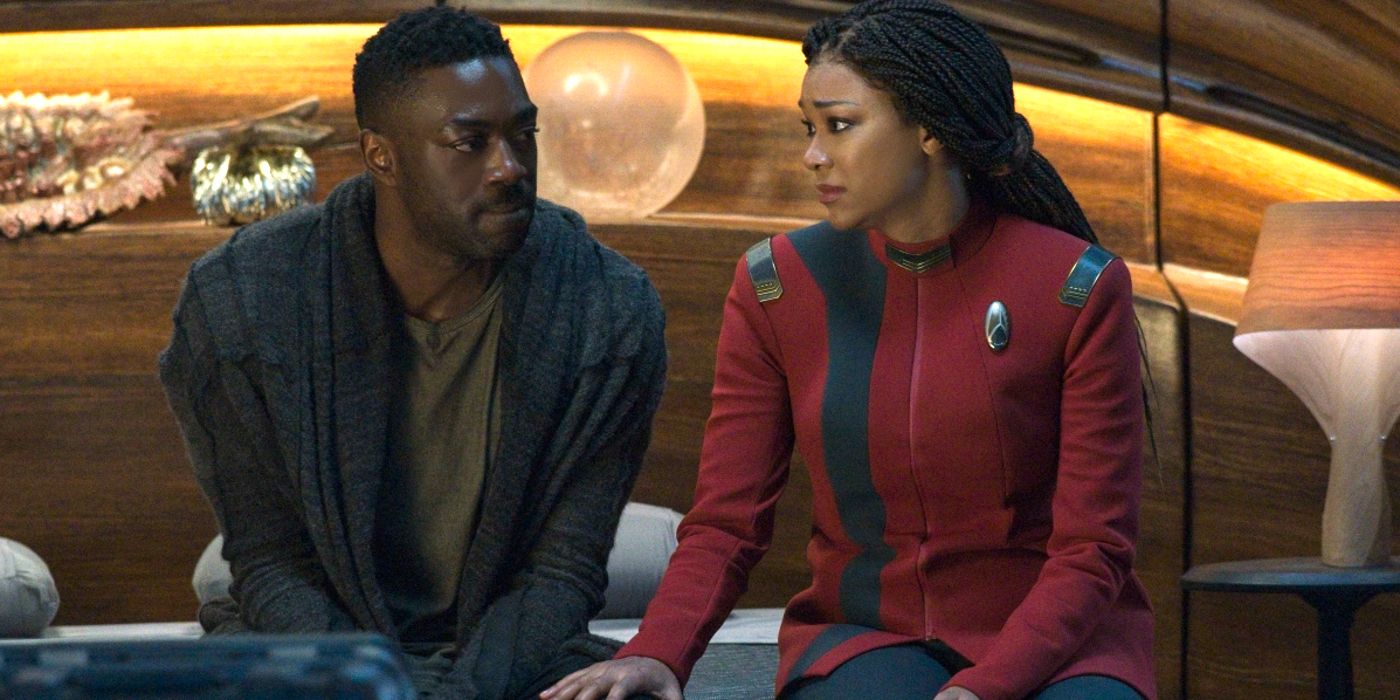 I really like Book and Tarka together, and their mission to wipe out Species 10-C. But they also have compassion, even if they are against the Federation. I feel like their motivations are very clear and come from a traumatic place. It's easy to understand.
David Ajala: Yeah, it's understandable. I'm not saying that their way of thinking is right or wrong. But what I will say, speaking on behalf of the two characters going through these very specific journeys of grief and loss, pain can be a great motivator. It can also be very destructive. And I think that's the fine line that we saw between these two characters, along their individual journeys and the collateral damage caused by the decisions that they made. With the best of intentions. I love how that season showed the many gray areas of life, conflict, and the decisions that we make and have to be accountable for.
One of my favorite episodes of season 4 was "All Out".
David Ajala: Oh, that was fun.
you The poker table matchup with Sonequa was great, and then you basically end the relationship there, which is heartbreaking. Tell me about the shoot.
David Ajala: Yeah. It was a tough one, On set in the morning, we actors always greet each other and connect. And with Sonequa in those sequences, we didn't really speak much. Sometimes it helps to just keep a certain level of freedom in the air with what you're creating, and allows you to have the room to naturally surprise each other, and not being in each other's pockets. But having that room really allowed us buy into the moments of being spontaneous. And to land the moment of the shock twist of Cleveland Booker selling out Michael Burnham. It's really important as we tell these stories, which are quite ambitious, to always be invested so that we pull it off as best we can.
Book is such a unique and interesting character because there are very few people in Star Trek who are so important to the show and the captains, yet he is not part of Starfleet. Do you think Booker should join Starfleet?
David Ajala: Great question. I think Cleveland Booker is a man of the people. And he naturally is someone who's on this planet who understands that his calling is to serve. And I think he can still achieve that without having to align himself with Starfleet or align himself with their specific protocols. So it's been a collaboration. Whether or not it may be advantageous for Cleveland Booker to join Starfleet, maybe there are things that he can learn from Starfleet, and there are things that Starfleet can learn from him. Cleveland Booker is used to being able to operate in the underbelly of society. And I think that's what makes him of value and effective when it comes to working with Starfleet.
The Discovery season 5 trailer, released at New York Comic-Con, gives the impression of more adventure, perhaps a change of tone. Would you say season 5 is accurate?
David Ajala: Yeah, definitely. Definitely. I think season 4 was a large story that had to be told in its entirety. I'm very aware it was a heavy season, very turbulent, trying times. So I really do believe that we have earned the freedom to launch into season 5 with such levity, adventure, and fun. And I think you will really, really appreciate and enjoy it. Especially from the first episode. You're gonna love some of the stuff that you'll be seeing in the first episode.
About Star Trek: Discovery Season 4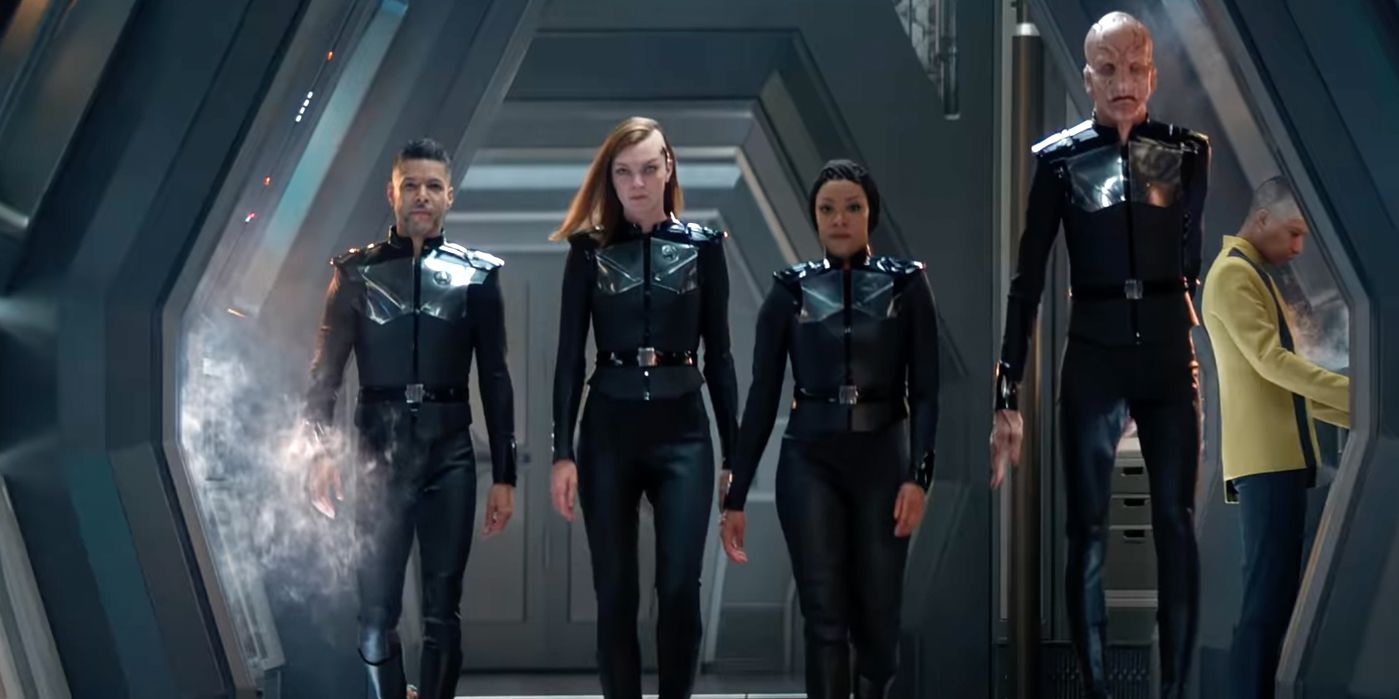 "Star Trek: Discovery" Season 4 finds Captain Burnham and the crew of the U.S.S. Discovery faces unprecedented threats. The impact is felt by both the Federation and non-Federation worlds, who must face the unknown and work together to ensure a future of hope for all.
Check out our other Star Trek: Discovery interviews here:
What's Next: Discovery Became More TNG Than You Think